WHO warns of Covid-19 peaks in South America
The World Health Organization has warned that South America, especially Brazil, has been suffering complicated and severe Covid-19 crisis.
The Americas have registered more than 62 million confirmed cases and more than 1.5 million deaths.
Speaking at a press conference in Geneva, WHO Director-General Tedros Ghebreyesus said Brazil has experienced an "acute crisis, with increasing cases, hospitalisations and deaths" since the beginning of November.
He said intensive care units have been at almost full capacity in April across the country, which has reported more than 14 million cases and more than 400,000 deaths.
The WHO chief said cases have now declined for hour weeks in a row, and hospitalisations and deaths are also declining and hoped this trend continues. However he stressed that the pandemic has "taught us that no country can ever let down its guard."
Dr Ciro Ugarte, Director of Health Emergencies at the Pan American Health Organization (PAHO), said the Covid-19 pandemic has become more complicated, not only in Brazil but in "all of South America."
"Countries like Peru, Ecuador, Bolivia, Argentina, Uruguay and Guyana are reporting a dramatic rise in infections, and their health services are overwhelmed. Infections in Colombia will soon reach the high levels that they had in January. And in intensive care units, beds are running out in major metropolitan cities like Bogota and Medellin," he said.
Dr Ugarte said COVAX has delivered 7.3 million doses of vaccine to Latin America and the Caribbean so far, but the need for vaccines is "much greater." He said many countries cannot afford large bilateral deals with producers and are relying on COVAX for vaccines, "but the outlook is not optimistic for increased supply soon."
---
---
Pakistan to slash international flights to curb Covid-19 cases
Pakistan plans to reduce the number of inbound international flights to 20% of current numbers to curb rising Covid-19 cases, the official body overseeing the country's pandemic response said today.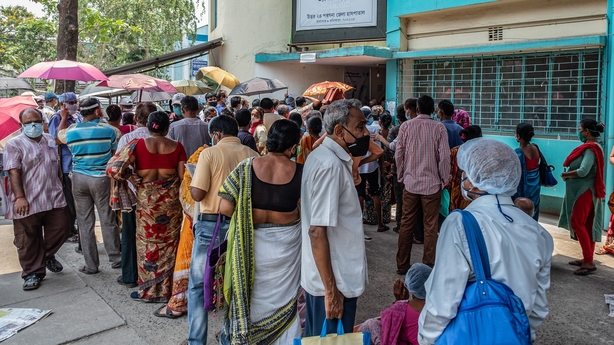 "In view of prevailing global and regional disease trends, Pakistan has decided to reduce inbound international travel from 5 May to 20th May," said the National Command Operation Center(NCOC), which oversees the government's pandemic response, on Twitter.
It was not immediately clear which routes and air carriers would be affected.
The NCOC added the decision would be reviewed on 18 May.
Pakistan has seen record deaths in recent days from the coronavirus, and stricter restrictions on movement and gathering in public are planned for the upcoming Eid holiday. Officials are worried the country's health care system, already under strain, could reach breaking point if more contagious variants of the virus begin to spread, as has happened in neighbouring India.
Today authorities reported 4,696 new confirmed Covid-19 cases in the past 24 hours and 146 deaths from the disease.
Japan to approve Moderna's COVID-19 vaccine as soon as 21 May
Japanese regulators are set to approve Moderna Covid-19 vaccine as soon as 21 May, the Yomiuri Shimbun newspaper reported today, without citing the source of the information.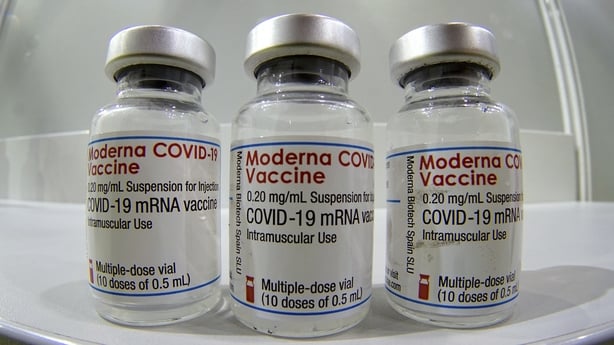 Takeda Pharmaceutical Co, Japan's biggest drugmaker, is handling domestic regulatory filing and imports of about 50 million doses of the Moderna shot, or enough for 25 million people.
The first doses were flown into Japan from Europe on 30 April, ahead of their official approval.
Moderna's would be the second such vaccine to be approved for use in Japan, after the government kicked off its inoculation campaign in the middle of February using Pfizer's shot.
Progress has been slow, with less than 2% of Japan's population inoculated so far, the lowest proportion among wealthy countries.
US cases of Covid-19 surpasses 32.34 million
The total number of confirmed Covid-19 cases in the United States surpassed 32.34 million yesterday and the death toll exceeded 575,000, according to the Center for Systems Science and Engineering (CSSE) at Johns Hopkins University.
Specifically, the country's case count has risen to 32,342,475 and the national death toll reached 575,899 on Thursday, the CSSE tally showed.
White House spokesperson Jen Psaki said in a statement yesterday that, according to the advice of the US Centers for Disease Control and Prevention (CDC), the United States will impose travel restrictions on India from 4 May.
The statement said that the implementation of the policy takes into account the extremely high number of confirmed Covid-19 cases and the spread of multiple variant strains in India. The statement did not elaborate on the travel restrictions.
The US media quoted officials as saying that the restrictions against India do not apply to US citizens and permanent residents.
The Covid-19 vaccination process continues, with 55%t of adults in the United States having received at least one dose of Covid-19 vaccine, and more than 100 million Americans having been vaccinated, said Jeff Zients, co-ordinator of White House Covid-19 Response Team, at the White House press briefing on the epidemic yesterday.
Meanwhile, CDC Director Rochelle Walensky stated that the average number of new cases per day in the United States over the past seven days was about 52,000, down 10% from the previous week's figure, and the average number of daily deaths over the past seven days fell to about 628, down about 8% from the previous week's figure.