Victoria has recorded four new locally acquired cases of COVID-19, a week since the latest lockdown lifted.
Key points:
'Border bubble' rules between Victoria and New South Wales will tighten from 11.59pm tonight
The state's four new infections bring the number of cases in the current outbreak to 220 since June 12
Commonwealth data shows vaccination rates are lowest in parts of Melbourne which were hit hardest by infection rates
The new cases were all in quarantine for their infectious period and linked to known infections.
The local infections and one case in hotel quarantine were detected from 22,217 test results processed on Monday.
The number of active cases in the state is continuing to drop, with 124 people now listed, including those in hotel quarantine.
The most recent outbreak, which began on July 12, is now linked to a total of 220 local coronavirus cases.
It has been a week since the state's fifth lockdown lifted, and the current level of restrictions is expected to stay in place until 11:59pm next Tuesday.
There are no limits on movement and most businesses are allowed to reopen, but masks are mandatory in most settings, home visits are banned and strict density limits apply at venues.
"We will continue to review the epidemiology, we've still got four cases today. We'll have a long tail to this outbreak," Chief Health Officer Brett Sutton said.
"There might be another week or more of a trickle of cases."
Professor Sutton said a "really significant review" would be done closer to next Tuesday, with home visits being on the table as a possible change.
He said there were 6.1 million check-ins on the Service Victoria app on Saturday, a new record for the state.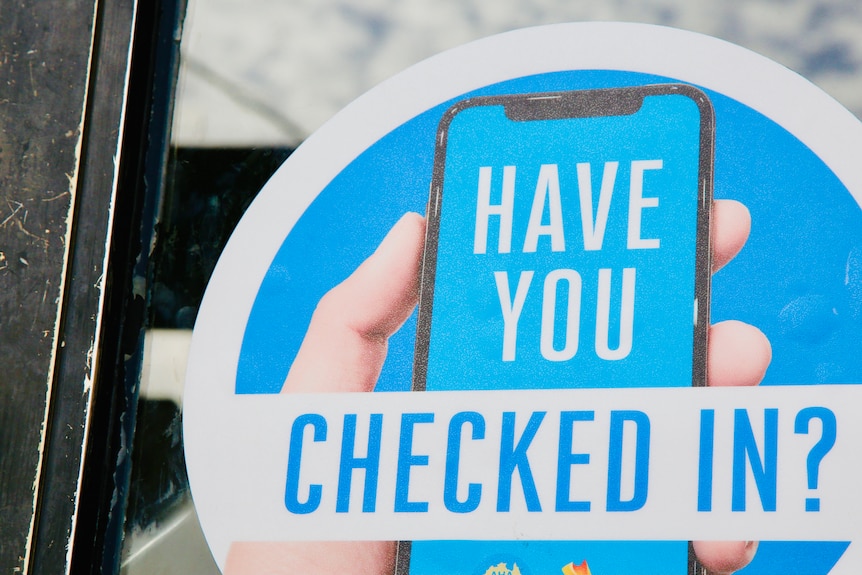 Vaccination rates lowest in areas worst-hit by outbreaks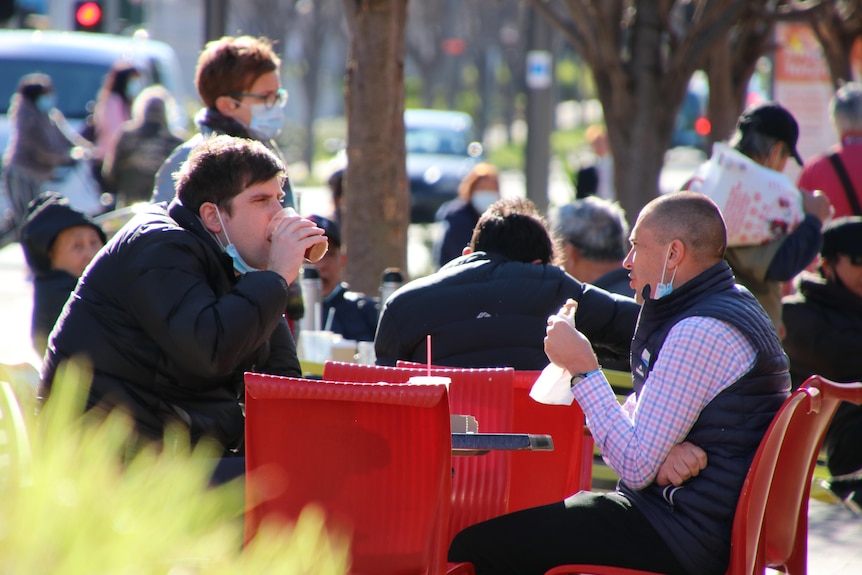 There were 16,591 doses of a COVID-19 vaccine administered in state-run centres on Monday. A similar number is delivered by the Commonwealth each day.
Vaccination data released by the Commonwealth, breaking down rates by geographic location, has shown Melbourne's north west, west and south east have the lowest rates in Victoria.
Those areas include some of the suburbs with the highest infection rates during Melbourne's outbreaks, particularly during the second wave.
Just 34.7 per cent of people in the Melbourne — North West area aged over 15 have had one dose of a vaccine, and 15.6 per cent have had two doses.
The area takes in suburbs such as Sunbury, Craigieburn and Broadmeadows, as well as parts of the Macedon Ranges.
Australian Bureau of Statistics data shows about 430,000 people live in the area, with about a quarter of those born overseas in the 2016 census. The median age is about 35, meaning much of the population has not been officially eligible for a vaccine.
It's a similar picture in the Melbourne — West area, which takes in suburbs like Sunshine, Truganina and Werribee, where only 16.5 per cent have had two doses and the median age is 34.
That's compared to the Melbourne — Inner South area, where 23.1 per cent of the population has had both doses. The median age there is higher than the national average, at 39.
Bendigo in central Victoria has the highest rates in the entire country, with 25.1 per cent of the population having two doses of the vaccine. 
"Some of it will relate to the demographics of those households," Professor Sutton said.
"The disparities that occur tend to be socioeconomic in terms of vaccine uptake even though they're same disparities that have led to more COVID cases in Victoria and around the world."
Professor Sutton said there were some areas that were more subject to "misinformation or disinformation" about vaccines.
Nationally, 40.96 per cent of the over-16 population has had one dose, and 19.23 per cent have had both.
Areas of outback Queensland and Western Australia have some of the worst rates in the country.
New border bubble rules from midnight
Victoria will tighten the "border bubble" rules with New South Wales from 11:59pm tonight.
Cross-border travel will only be allowed without a permit for six essential reasons. They are:
Necessary goods and services including medical care and COVID tests
Care and compassion reasons
Paid or voluntary work
Education including childcare
COVID-19 vaccination
Sport and exercise
New South Wales is already declared an "extreme risk" zone under the state's traffic light system, but border communities were previously exempt from the rules.
Health Minister Martin Foley on Monday said the decision was made based on advice from the Chief Health Officer "given the deteriorating situation in New South Wales".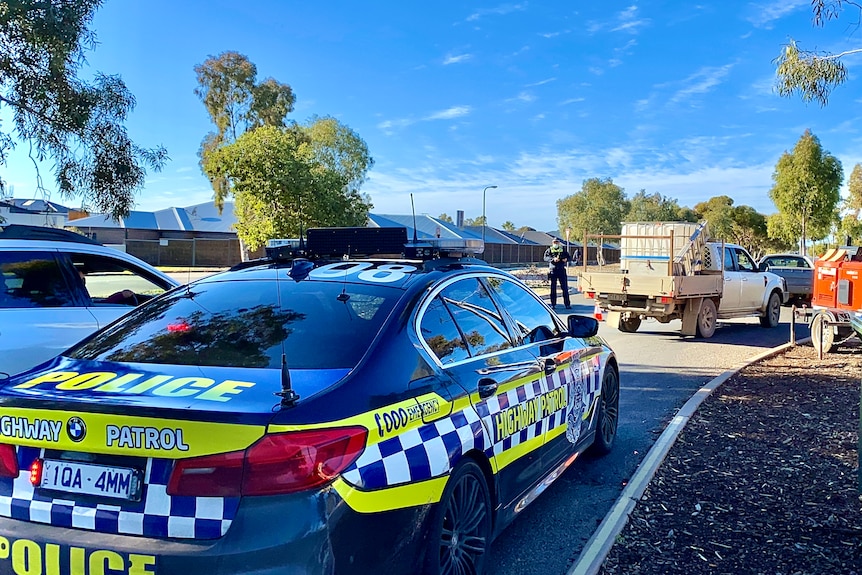 The Mayor of Albury, just over the Murray River from its Victorian sister town of Wodonga, has criticised a lack of communication between the government and local councils.
"At no point have they consulted anyone in the border region and I think that's where we sit at the moment," Cr Kevin Mack said.
"There's no information, there's no data to support what they are doing, yet here we go again."
Much of regional NSW has been COVID-free for months, but the Victorian government is pushing for Sydney to have a "ring of steel" between the city and the rest of the state.
Businesses on the NSW side of the border have told the ABC the rules will decimate trade.
The Victorian government is today introducing new legislation to grant rent relief to businesses that have suffered at least a 30 per cent downturn due to the latest lockdowns.
The package also includes more mediation resources for any commercial landlords who cannot negotiate relief directly with their tenants.
Calls for rapid testing
The Victorian state opposition has called for the government to roll out rapid testing in a bid to prevent the need for lockdowns.
State Opposition leader Michael O'Brien said rapid testing was already in use in the court system and could be implemented for major sport events like the AFL Grand Final.
"Rapid testing is the key to getting Victoria open and keeping us open. It's part of our plan. [Premier] Daniel Andrews is guilty of not having a plan. He wants to keep us in restrictions for the foreseeable future," he said.
Mr Andrews dismissed the call, saying rapid testing was only suitable in certain scenarios.
"The key point here is that rapid testing is often at its best when it's done in what's called a serial way. As in, day after day after day, not a one-off," he said.
"I won't be taking advice from people on the front steps of Parliament. I'll be taking advice from experts."
The Chief Health Officer said health officials would always consider rapid antigen testing "but it has to be suited to the circumstances that Victoria is in".
"We're not in a space now where it would provide much additional value," Professor Sutton said.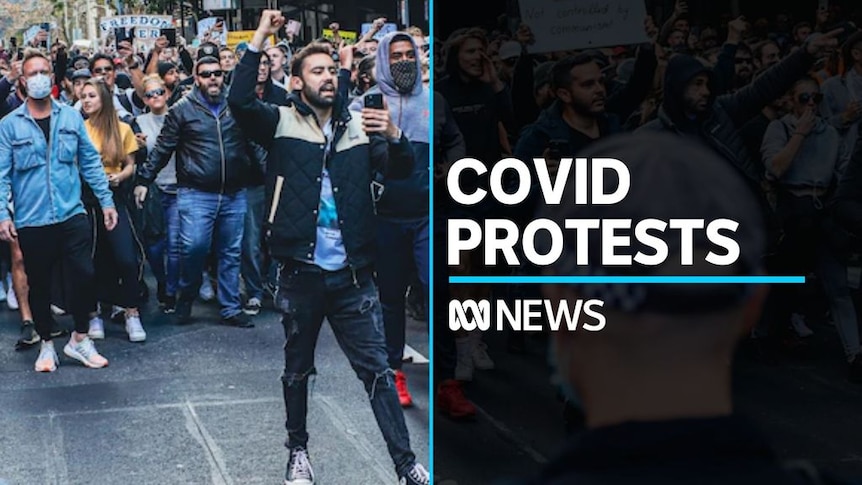 Loading form…