What's happening:
NW Goldberg Cares
, the community development corporation based in the NW Goldberg neighborhood, is celebrating the completion of a new pocket park at the corner of McGraw and Linwood streets. This is the fourth pocket park the organization has built since 2019, transforming vacant lots into community assets.
What it is: The organization's latest pocket park has been named Spotlight Park, a nod to the community stage at the center of the park. The circular stage allows for community-led performances, including live music, plays, and more, and a screening wall provides an opportunity to project shows and movies. New landscaping includes perennial flower beds and a fence designed and fabricated by neighborhood artist Eric Froh. Artist Alex Yanes painted the murals.
Resilient & sustainable: "Having a space in the neighborhood that can accommodate and support performance is a step toward reviving a resilient and sustainable connection to the arts in the community," says songwriter and neighborhood resident Audra Kubat. "As an artist and educator, this gives me an opportunity to work directly with my immediate neighbors and develop new and lasting relationships through expression and performance."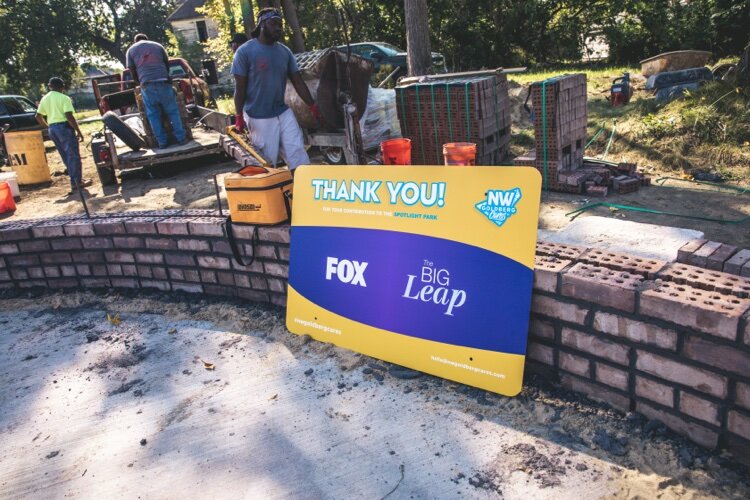 Hollywood origin story: Funding for Spotlight Park was made possible by FOX Entertainment. Their new scripted drama "The Big Leap" is set in Detroit and follows a group of Detroiters as they take part in a reality dance show. Spotlight Park, according to a release, was funded by FOX with "hopes to inspire artists of all concentrations to leap towards their dreams and share their art with their community." The series premiere of "The Big Leap" was scheduled for Monday, Sept. 20, at 9 p.m. on FOX (Ch. 2, WJBK).
Redemption song: "With their new show talking a lot about redemption, I really liked the idea of redemption through performance art. Venues are kind of limited in the city right now, and especially with COVID-19 still around. If you're not a big act, it can be hard getting into the bars and clubs and other venues. Opening this park with the stage, it gives a space for dreams and opportunities for everyone," says Daniel A. Washington, executive director and founder of NW Goldberg Cares.
"This is another touch point for people to realize their dreams here."
[Also on Model D: New park planned for NW Goldberg neighborhood to honor local basketball legend]
Got a development news story to share? Email MJ Galbraith here or send him a tweet @mikegalbraith.