According to the latest CDC data tracker statistics, all counties in Pennsylvania are migrating to substantial or high levels of community infection with COVID-19. No counties remain listed during the moderate period of community infection, and COVID numbers continue to increase in 27,914 newly identified cases over the last 12 days.
Only 15 of the 67 counties in Pennsylvania remain at substantial levels, and the rest are considered high due to community transmission and a wave of case numbers.
Latest vaccination recommendations
The US Food and Drug Administration has officially approved the first COVID vaccine.
The Pfizer vaccine, which has been available under an Emergency Use Authorization (EUA) since December, has officially passed the FDA's testing process and has passed. Approved and approved for people over 16 years old..
"The FDA's approval of this vaccine is a milestone in continuing the fight against the COVID-19 pandemic. This vaccine and other vaccines are the FDA's first FDA-approved COVID-19 vaccine for emergency use. Although meeting strict scientific standards, the general public can be confident that this vaccine meets high standards of safety, efficacy and manufacturing quality. The FDA requires approved products. "" Said Janet Woodcock, FDA's Deputy Commissioner for Medicine.
After the manufacturer submits a Biopharmacy Approval Application (BLA), the FDA evaluates the manufacturing process, vaccine test results, site testing, and much more.
"Millions of people are already safe with the COVID-19 vaccine, but for some, the FDA approval of the vaccine may instill more confidence in getting vaccinated. Today's milestone is one step closer to changing the course of this pandemic in the United States, "Woodstock continued.
The Pfizer, Moderna, and Johnson & Johnson vaccines for children aged 12 to 15 are still active EUAs and are being tested.
Latest vaccination recommendations
As the number of COVID-19s increases, some schools may review and adjust their health and safety plans as the school year begins next week in the region.
A group of regional physicians sent a letter signed by 47 physicians to the regional K-12 school board containing relevant information and data on the benefits of delta, increased infection rates, hospitalization, and masking at school. bottom.Doctors are also circulating Link To petition Change.org For a mask man date.
The Royal Sock Township Board is planning a "Board Special Meeting" on Thursday, August 26, at 7:00 pm to discuss the district's health and safety plans.
The Danville Area School District follows the mandatory guidelines set by PADOH and CDC regarding masks as recommendations and obligations are subject to change.
The Serin's Gloves Area School District chooses a voluntary option to wear a mask with the Keystone Central School District. Keystone Central has not publicly posted a review update to its Health and Safety Plan since July 8, 2021.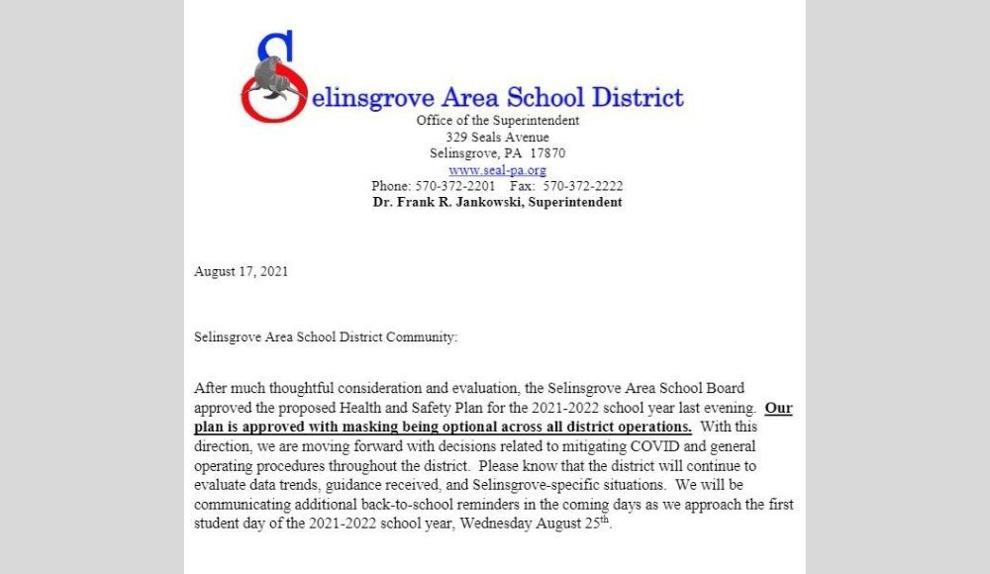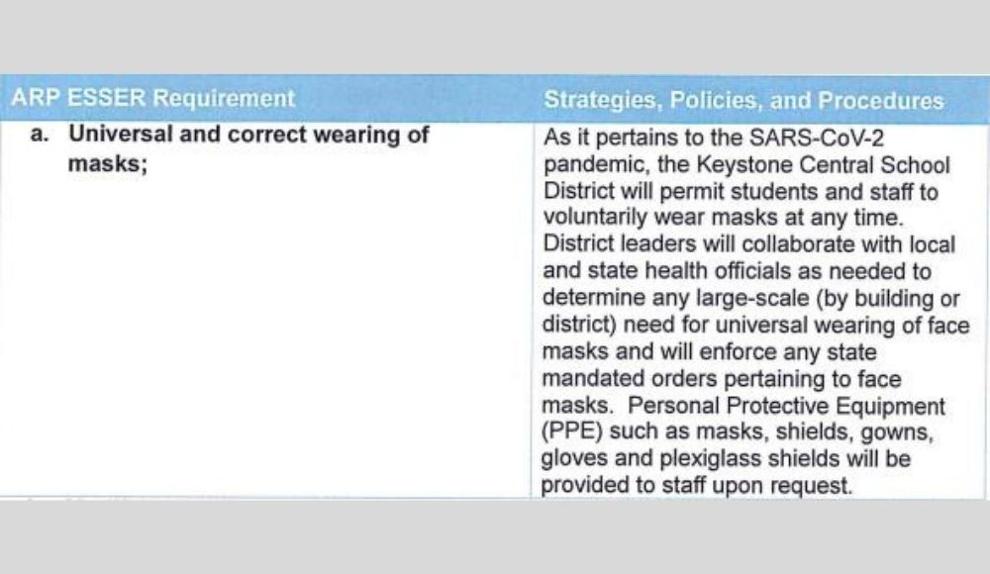 COVID-19 Number for Central and Northern Pennsylvania
In central and northern Pennsylvania, the Pennsylvania Department of Health has reported the following cases:
* These are confirmed cases reported. The total DOH adds a "probable" case, NorthcentralPa.com Only cases listed as "confirmed" are reported.
Total number of cases confirmed in Pennsylvania: 1,068,775 (+27,914 from Friday, August 13)
Bradford-Confirmed: 5,222 (+66 from Friday, August 13); Deaths: 99 (fully vaccinated 34.3%, partially 39.4%).
Center-Confirmed: 15,896 (+208 from Friday, August 13); Deaths: 230 (fully vaccinated 50.9%, partially 59%)
Clinton (high)-Confirmed: 3,458 (+56 from Friday, August 13); Deaths: 69 (completely vaccinated 36%, partially 41.6%)
Columbia(high)-Confirmed: 5,554 (+138 from Friday, August 13); Deaths: 136 (fully vaccinated 51.9%, partially 58%)
Lycoming (high)-Confirmed cases: 10,378 (+180 from Friday, August 13); Deaths: 301 (fully vaccinated 43.6%, partially 49.2%)
Montour-Confirmed: 1,881 (+19 from Friday, August 13); Deaths: 67 (fully vaccinated 65.6%, partially 70.8%)
Northumberland (high)-Confirmed: 8,596 (+175 from Friday, August 13); Deaths: 366 (fully vaccinated 49.1%, partially 55.4%)
Potter-Confirmed: 1,131 (+28 from Friday, August 13); Deaths: 26 (fully vaccinated 27.1%, partially 27.8%)
Snyder (high)-Confirmed: 2,945 (+71 from Friday, August 13); Deaths: 87 (fully vaccinated 37.8%, partially 45.6%)
Sullivan-Confirmed: 368 (+14 from Friday, August 13); Deaths: 21 (fully vaccinated 40.9%, partially 65%)
Tioga-Confirmed: 2,667 (+38 from Friday, August 13); Deaths: 113 (fully vaccinated 36.3%, partially 38.8%)
Union-Confirmed: 4,778 (+67 from Friday, August 13); Deaths: 90 (49.1% vulgar vaccine; 55.9% partially)