In 1988, Rotary International and the World Health Organization created the Global Polio Eradication Initiative, according to a press release from the Ripon Rotary.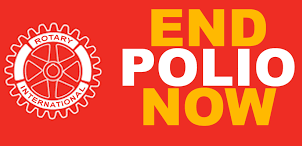 Even before that, the organization said Rotary International had made a commitment to eradicating polio from the earth.
Back then, there had not be a case of polio in the United States in many years. Many thought it was already gone. That was not the case, however, as there were still hundreds of thousands of cases around the world in 1988.
However, back in the U.S., Americans were had the polio vaccine readily available. Many countries, however, were not that lucky as they had trouble getting access to the vaccine, meaning polio was not eradicated, Rotary said.
Older adults may remember when polio shut down the United States in the 1950s.
Because polio is a highly-contagious disease, Rotary said most businesses closed and people stayed home, which might sound familiar, given the current pandemic.
However, polio results in paralysis of legs and can also cause death. Although it strikes children most, it can also affect adults.
Jonas Salk developed a vaccine for polio and, those countries where it was available, were immunized and saved from the disease.
Even so, there is still no cure for polio. World Polio Day was established by Rotary International is now celebrated on the birthdate of Jonas Salk each year, which is today (Oct. 24).
Rotary says it is a day meant to keep attention on polio and the need to eradicate it. When this goal is reached, polio will be only the second disease to be wiped out of existence. The other is smallpox.
The theme for World Polio Day in 2020 is "Stories of Progress: Past and Present" to recognize the work done around the world to get to where we are today with polio. It also recognizes that work remains to be done.
Since 1979, when Rotary first immunized residents of the Philippines, members of Rotary clubs all over the world have helped immunize over 2.5 billion children in 122 countries, according to a press release.
Rotary is a non-political, non-religious organization that serves others, meaning Rotary is able to organize mass immunization days and get children immunized against polio. Governments helped by contributing millions of dollars, as well as providing assistance and protection for the immunization workers.
Rotary hasn't stopped immunizing children since it started in 1979.
By collaborating with organizations like the World Health Organization and the Bill & Melinda Gates Foundation, and others, Rotary has helped decrease the number of cases of polio from approximately 350,000 in 1979 to only 175 cases in 2019. Africa was just recently certified as "polio-free."
Even so, there are still cases of polio being reported in Afghanistan and Pakistan. In the midst of the current COVID-19 pandemic, polio is still infecting people in parts of the world.
As long as there is polio anywhere in the world, there is a risk of it re-emerging as infecting people across the world.
For example, there are people in the United States who refuse to immunize their children.
If polio is allowed to remain, Rotary says even in only the two currently-endemic countries, within 10 years, it could paralyze as many as 200,000 children.
The world is increasingly mobile, meaning it would not take long before polio was an issue in the U.S. again, which is why Rotary International and its partners keep working.
"The current COVID-19 pandemic has forced immunization efforts to stop," said Liz Nevitt. co-president of the Ripon Rotary Club. "Rotary and others will resume the immunizations as soon as it is safe. We still need your help. You can help by sending donations to Rotary."