Ozone Generator Machine Purifier Air Cleaner Disinfection 20g/h Clean Silver
HOW TO USE: At first, you have to plug in the machine, then adjust the timer and it will start working. For example, if your room is 20 square meter, adjust the timer with 10-20 minutes. If your room is larger – adjust the timer with more minutes accordingly. During machine work, animals or human should not stay in th/e room. When machine finished work, ventilate th/e room for 15-20 minutes.
TECHNICAL PARAMETER: O/zone Output: 20g Voltage: 110V Gas Feeding: Dry Air or Oxygen Power Consumption: 100W Cooling Method: Ambient Air Cooling O/zone Generating Method: Corona Discharge
PRODUCT FEATURES: Kitchen in addition to taste. Toilet deodorant. Bedroom air purifier. Kill b/acteria and viruses. Remove refrigerator odor. A/nti-b/acterial sterilization, effective suppression kill more than 90% of the air mold, E. coli and other harmful b/acteria. Get rid of the smoke, dust, odor removal, you can generate a lot of negative oxygen ions optimized air, clean indoor air.
Using the principle of nature lightning discharges to the air as raw material, high frequency high voltage discharge to produce reactive oxygen species, increase the amount of oxygen inhalation body, while discharging the excess carbon dioxide. Improve cardiac function, lung function, reduce fatigue, promote metabolism, relieve dizziness symptoms, keep a clear head. Broad-spectrum efficient reduction of o/zone into oxygen essential, no secondary pollution, mostly from the general air freshener deodorant, fungicides and aromatic composition, although no too toxic, but no benefits to the human body. All intelligent control system, more in line with modern scientific machines, more efficient, more cost-efficient. Applying the principles of nature lightning discharges to air as raw materials, high-frequency high-voltage discharge preparation o/zone.
Specification:
Ozone Generator Machine Purifier Air Cleaner Disinfection 20g/h Clean Silver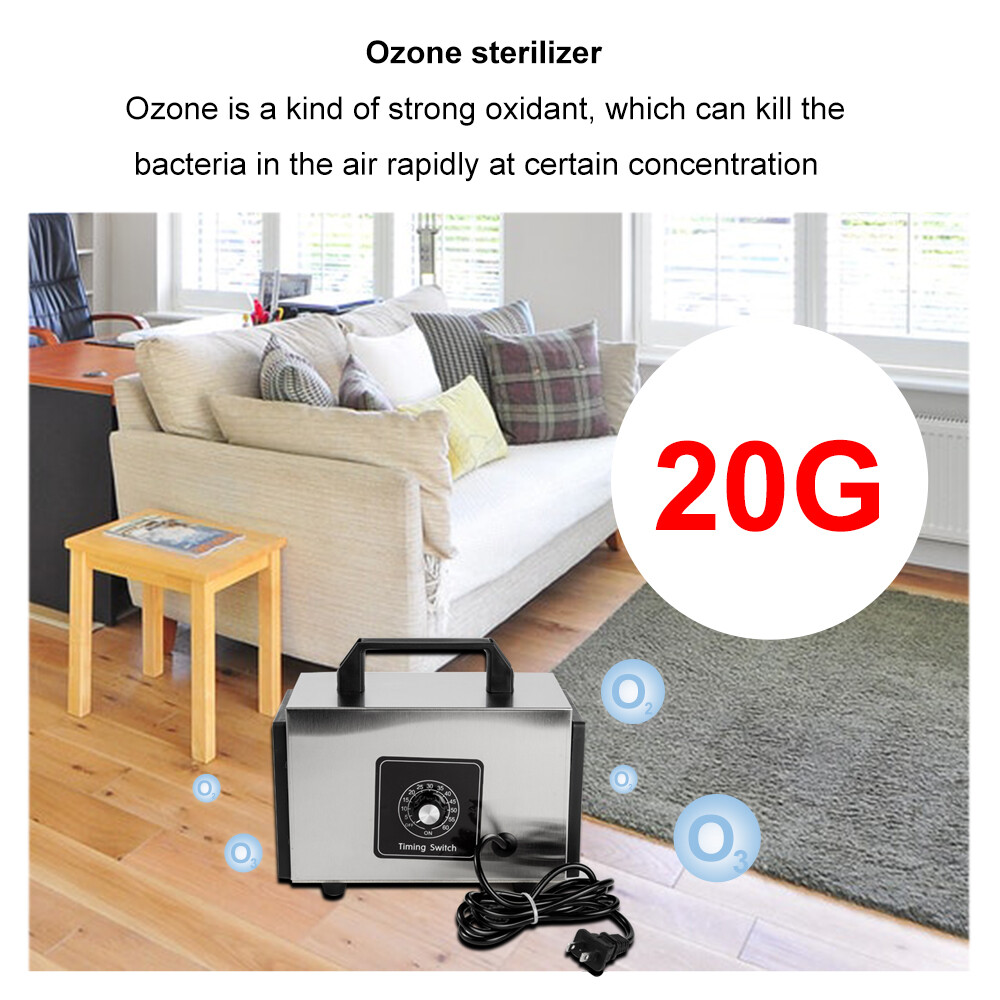 Ozone Generator Machine Purifier Air Cleaner Disinfection 20g/h Clean Silver