Coronavirus Outbreak: Live Updates and News for October 3, 2020
Former White House adviser Kellyanne Conway tested positive for Covid-19, as did Republican Senator Thom Tillis. President Donald Trump went to hospital for a "few days" for coronavirus treatment.
A top World Health Organization official said the White House outbreak constituted a cluster and needs to be properly investigated. Democratic nominee Joe Biden tested negative, as did several senior administration officials including Vice President Mike Pence.
New York reported its highest number of cases since June as infections surge in hot-spot neighborhoods. U.S. cases rose 0.7%, above the average 0.6% daily increase of the last week. Women are dropping out of the job market at the fastest pace since the height of the pandemic.
Key Developments:
Subscribe to a daily update on the virus from Bloomberg's Prognosis team here. Click CVID on the terminal for global data on coronavirus cases and deaths.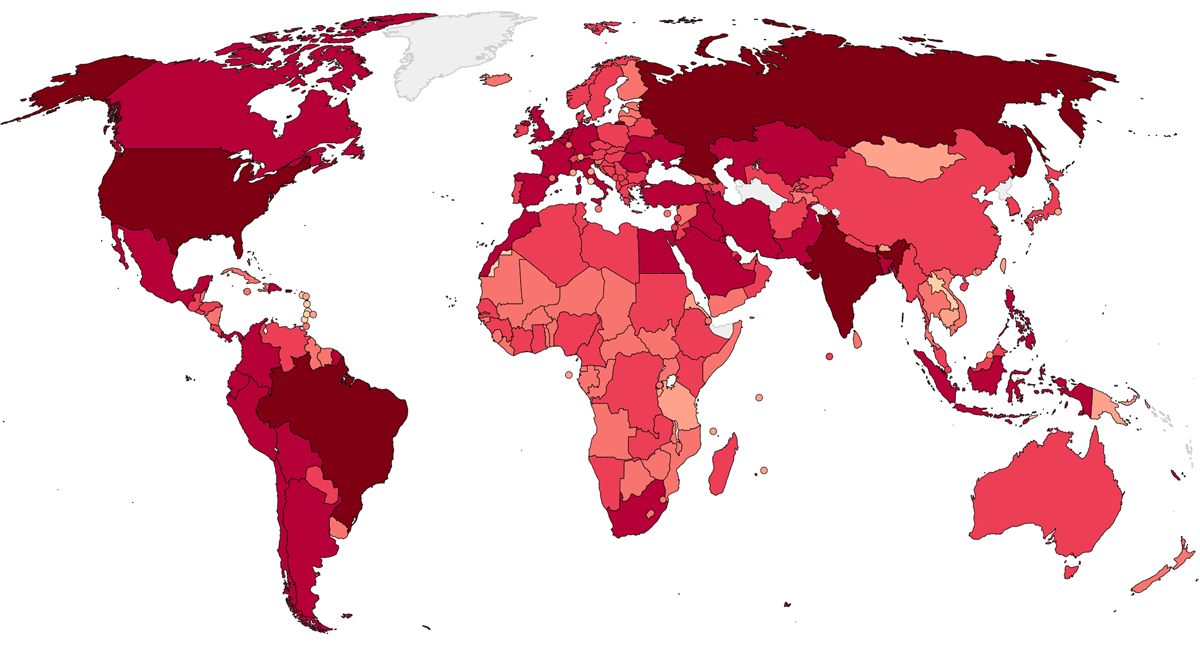 Pence, Harris to Be 12 Feet Apart (10:38 a.m. HK)
Vice President Mike Pence and Democratic vice-presidential nominee Kamala Harris will be placed farther apart at their debate next week, a response to President Donald Trump's diagnosis of Covid-19, according to people familiar with the development.
The Commission on Presidential Debates plans to seat Pence and Harris 12 feet (3.7 meters) apart, rather than 7 feet, as initially planned, according to people familiar with the procedure, who asked not to be named discussing information not yet public.
Argentina Reports Record Cases (8:09 a.m. HK)
Argentina added 14,687 new cases, taking the country's total to 779,689, according to the government's evening report.
There were 312 deaths in the last 24 hours, total the death toll to 20,599.
Trump to Spend a 'Few Days'
in Hospital

(6:21 a.m. HK)

President Trump was taken to Walter Reed National Military Medical Center on Friday to be treated for Covid-19, the White House press secretary said. He left the White House for the Marine helicopter wearing a mask and walking on his own.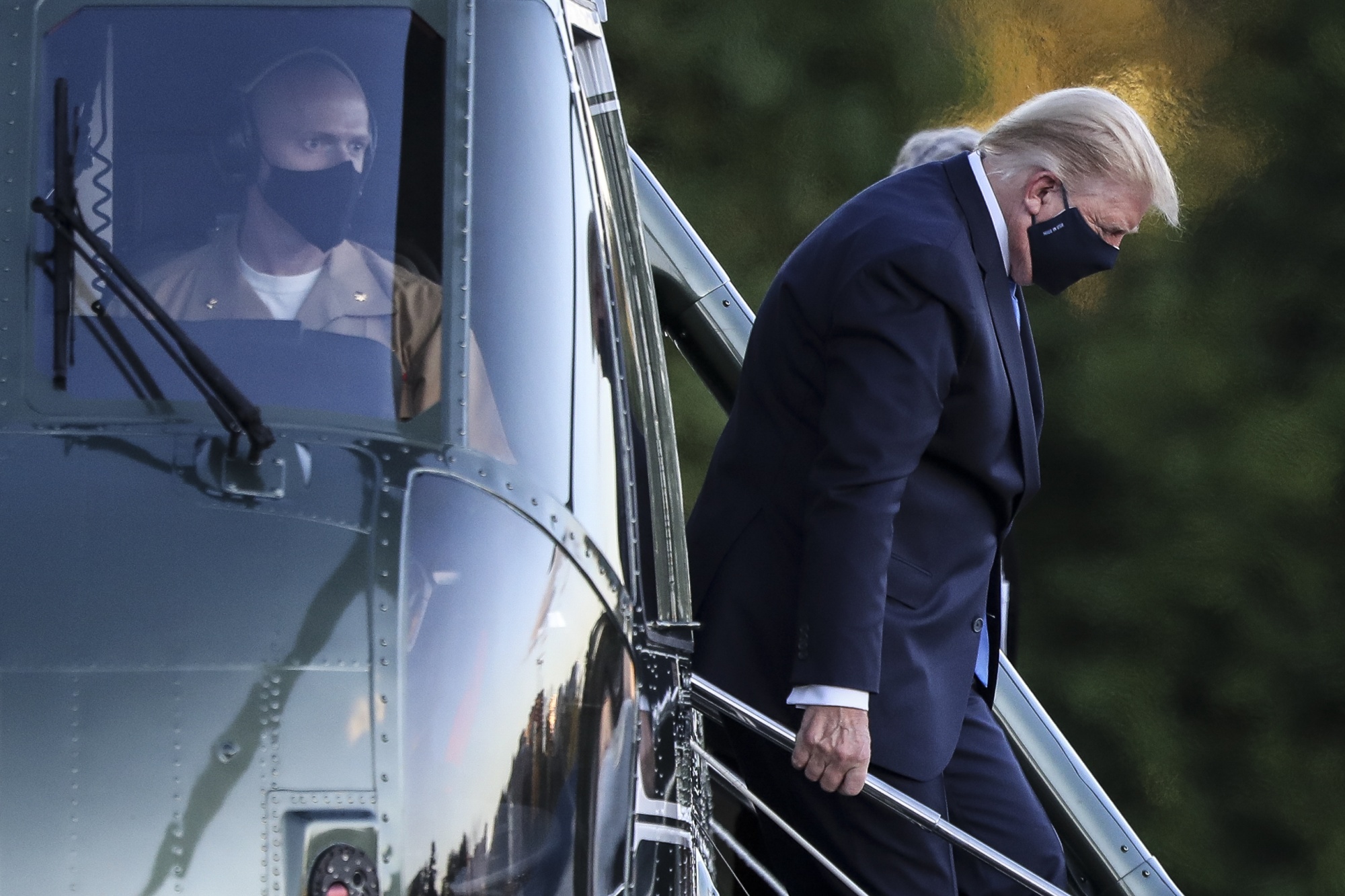 "Out of an abundance of caution, and at the recommendation of his physician and medical experts, the president will be working from the presidential offices at Walter Reed for the next few days," Press Secretary Kayleigh McEnany said in a statement.
Trump is in "good spirits" after his Covid-19 diagnosis on Friday and has been treated with a Regeneron Pharmaceuticals Inc. "antibody cocktail," the White House physician said.
Brazil's Cases Creep Up (5:05 p.m. NY)
Brazil's new cases increased for a second consecutive day to 33,431, though weekly infections appear on track for the lowest number since late May, according to the Health Ministry's website. The pace of deaths also has been slowing. Another 708 people died of virus-related causes, compared with a daily record of almost 1,600 in late July.
Michigan Court Strikes Down Governor's Emergency Virus Orders (5:49 p.m. NY)
Dozens of Michigan executive orders issued by Gov. Gretchen Whitmer to fight the pandemic are unconstitutional, the state's high court ruled Friday in a split decision.
Four of the seven justices ruled that the 1945 statute giving Whitmer (D) unilateral power to issue orders addressing the pandemic violated the state constitution because the law delegated too much power to the governor's office.
The Michigan Supreme Court ruling invalidates orders ranging from business restrictions to mask mandates, and will require Whitmer to compromise with Republicans on any health emergency orders that extend 28 days.
U.K. to Announce Three-Tier System for Regional Lockdowns (5:34 p.m. NY)
Health Secretary Matt Hancock will announce next week the creation of a "traffic light" system to help decide which regions of England should go into lockdown, the Telegraph reported. The measure will work alongside the NHS Test and Trade app, which people will use when entering and leaving pubs, restaurants and bars.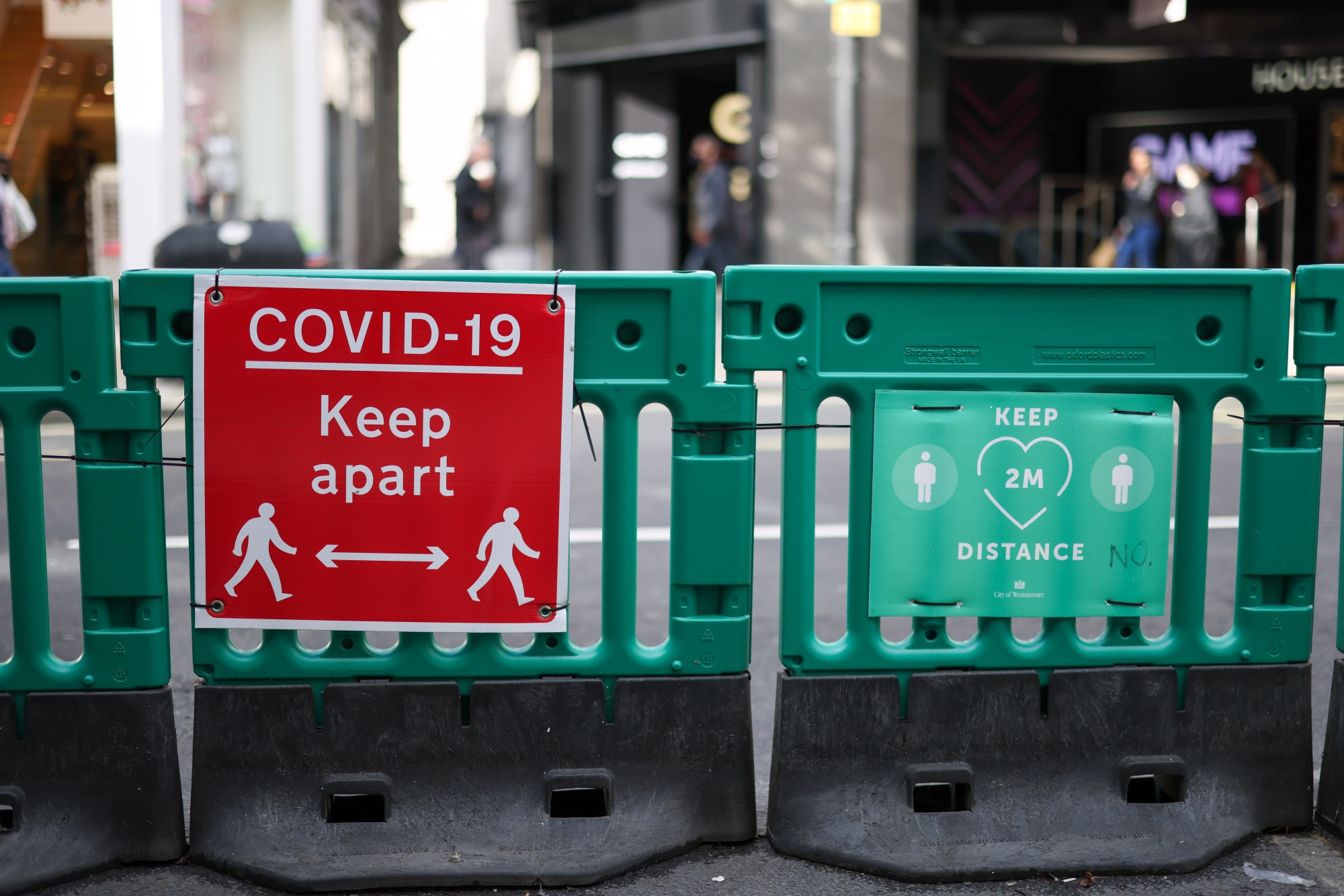 U.S. Cases Rise 0.7% (4 p.m. NY)
Coronavirus cases in the U.S. increased 0.7% as compared with the same time Thursday to 7.3 million, according to data collected by Johns Hopkins University and Bloomberg News. The increase was in line with the average daily gain of 0.6% over the past week. Deaths rose to 208,304.
New York's Cases Spike Again (3:34 p.m. NY)
The number of new cases in New York reached nearly 1,600, the highest since late-May, as the state looks to quell several hot spots.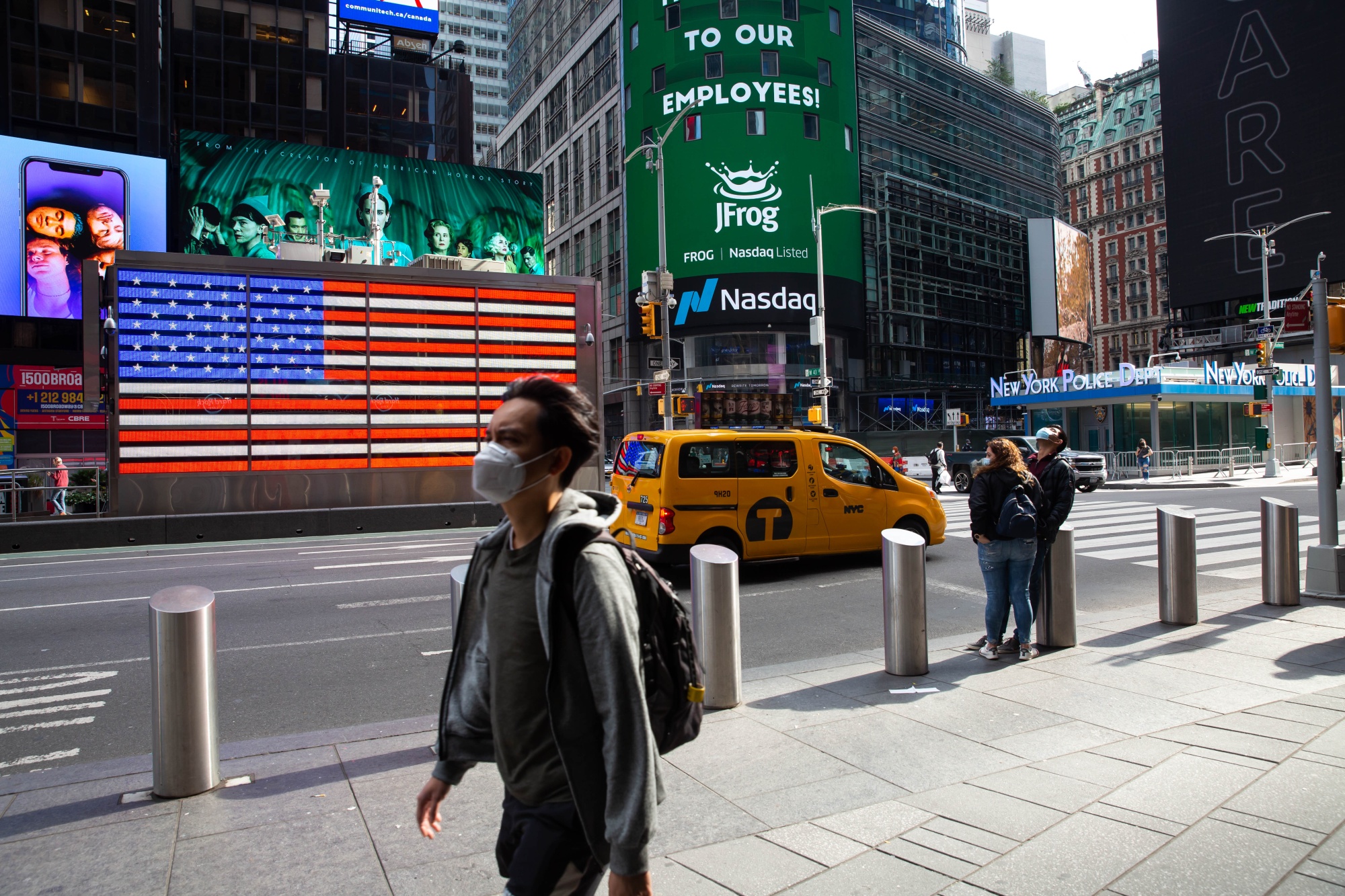 Of the 119,493 tests conducted statewide on Thursday, 1,598 or 1.3% were positive, according to state data released on Friday. There were seven virus-related fatalities and 648 people were hospitalized.
Governor Andrew Cuomo, on a conference call with members of the media Friday morning, said the state is continuing to focus its efforts on 20 hotspot ZIP codes mainly in Brooklyn, Queens, and Orange and Rockland counties.
Utah Senator Tests Positive After White House Visit (2:30 p.m. NY)
Utah Senator Mike Lee said he tested positive after returning from a trip to Washington, D.C., where he attended the White House nomination of Amy Coney Barrett to the Supreme Court.
"Yesterday morning, I was experiencing symptoms consistent with longtime allergies," the Republican wrote on Twitter. "Unlike the test I took just a few days ago while visiting the White House, yesterday's test came back positive."
University of Notre Dame's president, another ceremony attendee, tested positive as well, the Associated Press reported. Rev. John Jenkins apologized to students, faculty and staff on Monday for shaking numerous hands and not wearing a mask at the ceremony.
Barrett tested positive for coronavirus earlier this year but has since recovered, the Washington Post reported, citing three officials familiar with the matter.
NYC Average Daily Cases Highest Since June (1:32 p.m. NY)
New York City reported a seven-day average of 406 daily new confirmed cases, marking the first time since June 8 that indicator exceeded 400.
The city said Friday that there were 79 hospital admissions of patients presenting coronavirus-like symptoms on Sept. 30, of which 15, or 19%, have been confirmed as positive for the virus.
Mayor Bill de Blasio said the city has identified 11 ZIP code clusters of Covid-19 prevalence experiencing an overall 6.43% infection rate through testing. Removing these areas from city calculations, the overall test-infection rate stands at a low 1.08% in the city's 135 remaining ZIP codes. Altogether, the citywide seven-day average rate stood at 1.53% Friday, up from 1.52% the previous day.
Covid Cases in the White House Constitute a Cluster, WHO Official Says (1:21 p.m. NY)
The outbreak of coronavirus in the White House constitutes a disease cluster and it needs to be taken seriously, said Mike Ryan, executive director of the World Health Organization's Health Emergencies Program.
"In the classic epidemic dictionary, two cases of any disease that are linked in space and time can be considered to be an epidemic or a cluster," Ryan said during the WHO daily press conference. "There clearly is a cluster of cases occurring" at the White House, he said in response to a question about whether the outbreak is a sign that the U.S isn't on the right track when it comes to controlling the disease.
The outbreak at 1600 Pennsylvania Avenue needs to be properly investigated and individuals who are at risk should be properly advised, Ryan said. Quarantines need to be put in place for those who have been exposed, he said.
Ireland Reports Most Cases Since April (12:57 p.m. NY)
The spread of the coronavirus in Ireland is now "a matter of serious concern" nationwide, the health ministry said, as it reported the most new coronavirus cases since April for the second day in a row. There were 470 newly confirmed cases, with one death. The increase came on the same day Northern Ireland reported a record number of newly confirmed coronavirus infections.
U.K.'s Johnson, Who Fought Covid, Sends Trump Best Wishes (11:45 a.m. NY)
British Prime Minister Boris Johnson, who himself suffered from a severe case of coronavirus, sent his best wishes to President Trump and the First Lady Melania Trump, following their positive coronavirus tests.
At the lowest point of Johnson's battle with the disease in April he was confined to intensive care. Johnson still felt the effects of the disease for weeks, and has since been on a health-kick.
The U.K. is struggling to contain its second outbreak of the coronavirus, despite new nationwide restrictions recently taking effect.
Virus Forcing More Women From Workforce (10:22 a.m. NY)
Women, especially those in the age group most likely to have young children, are dropping out of the job market at the fastest pace since the height of the pandemic as many schools and child care centers remain closed.
Participation in the labor force by women between the ages of 25 to 54 dropped to 74.2% in September, down from 74.9% in August after nearly hitting an all-time record right before the virus hit, according to data released Friday by the Labor Department.
— With assistance by Angus Whitley