On the subject of live music, which many will be yearning for after events across the globe were cancelled due to the pandemic, a huge two-hour long drive-in concert was held in Indonesia on Saturday night.
According to Reuters, around 900 listeners in 300 cars honked and flashed their lights along as pop ensemble Kahitna at Jakarta International Expo.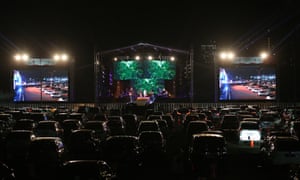 It was a reminder of the good times before the coronavirus pandemic brought the music industry to a juddering halt, said Chaeruddin Syah, one of the concert organisers. He told Reuters:



Our economy has declined for four to five months, we have not worked at all and have not made any money.

We hope this concert can provide solutions and inspiration to the entertainment industry."
Indonesia, which is grappling with a surge in virus infections, racked up its biggest daily increase in cases for a third straight day on Saturday. The south-east Asian nation has tallied about 170,000 infections and 7,261 deaths.
The organisers of Saturday's event said they had prioritised safety, asking listeners to provide negative test results and wear masks.