Coronavirus Australia live updates September 2: Queensland to host AFL Grand Final; Australia's GDP drops seven per cent; NSW records 17 new cases all from known sources; Two new cases in Queensland; Victoria reports 90 new cases and six deaths
Dr Coatsworth said even Victorians should be able to "get out and enjoy the warm weather" when summer months approach but has warned everyone still needs to remain vigilant.
"Australians will get outside – and they should in the states where they're able to do so, and as restrictions are lifted in Victoria," he said.
Dr Coatsworth said there are two important things that impact coronavirus transmission that will need to remain front of mind.
"One is movement of people across cities, across states, and the second one is crowds which we see frequently."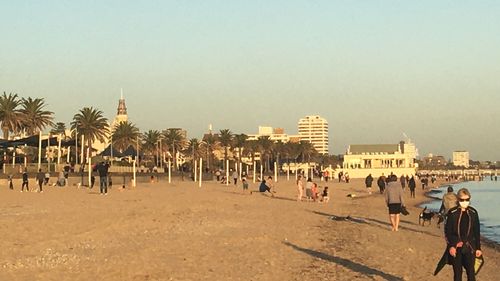 Pictured: Walkers seen dotting Albert Park Beach, extending to St Kilda, in Melbourne.
He said crowds bring a potentially deadly risk.
"We have seen in the Northern Hemisphere COVID running rampant across many nations during the summer months," Dr Coatsworth said.
"As holiday-makers go to and from countries in Europe, bringing the disease back in to their own country and sparking new outbreaks of COVID-19.
"So, the message is, as we move into the summer months, treat the summer with as much caution as you've treated winter.
"That means keep physical distance. That means get tested if you're at all unwell.
"Don't go to a family gathering down at the beach if you're unwell or the kids are unwell. Stay at home and get yourself tested. Wear a mask if you're on public transport going to and from those areas."